Rates and conditions
| | | | | | |
| --- | --- | --- | --- | --- | --- |
|   | Week | Weekends | Long Weekends | Midweek | 2 Weeks |
| Low season | 2090 | 1990 | 1990 | 1790 | 3230 |
| Avg. seas.A/B | 2290 | 2110 | 2110 | 2010 | 3660 |
| High season | 2890 | 2640 | 2640 | 2640 | 4830 |
| Christmas | 3040 | 2860 | 2860 | 2860 | 5610 |
| New Years Eve | 3190 | 2860 | 2860 | 2860 | 5930 |
| F1 | 2890 | 2640 | 2640 | 2640 | 4830 |
| Special Weekends | 2890 | 2210 | 2210 | 2010 | 4830 |
| Avg. seas.D | 2890 | 2210 | 2640 | 2640 | 4830 |
|   |   |   |   |   |   |
water, electricity, heating: Included 
Exit Cleaning: Included 
Bedsheets: Included 
Towels: Included
Waste: Included 
Tax: Included
2023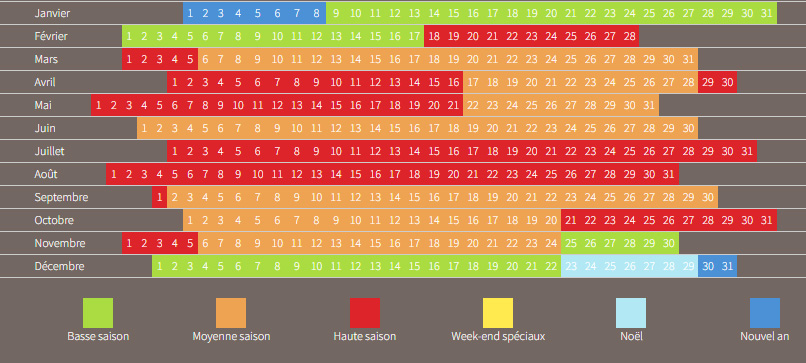 2024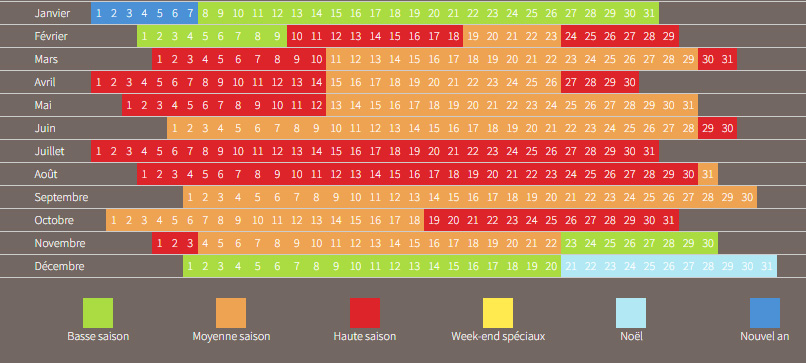 Arrival time: 16:00
Check out: 10:00

Pets: Not allowed
All reservations are official upon receipt of a €500 deposit in our account 
( IBAN: BE12 6345 1578 0192, BIC: BNAGBEBB ).
If the deposit is not paid within a week of booking, the house is automatically put up for re-hire. The balance is payable 8 weeks before your stay.
For all cancellations 42 or more days prior to arrival: 30% of rental costs. For all cancellations 42 days (inclusive) up to 28 days prior to arrival: 60% of rental costs. For all cancellations 28 days before (inclusive) up until the day of arrival: 90% of the rental costs. For all cancellations the day of arrival or later: full rental costs.


For LASTMINUTE reservations, you must pay the entire rental price.
 
A cash deposit of €600 is also required on arrival and will be refunded within two weeks of departure. For foreign refunds, always provide your IBAN and BIC codes.
This holiday home is primarily intended for family groups. Non-family groups are accepted subject to the agreement of the owner and with a possible increase in the deposit. Student parties and stag/hen groups etc., are strictly prohibited. If you are not a family group, please leave us a message when you book.
Respect the accommodation and its location including noise after 22h and the maximum number of people allowed to stay. Return the rented accommodation and its inventory in a perfect state of order and cleanliness. Although the accommodation will be cleaned at departure, you are required to keep the house clean. You also need to clean and put away the dishes. The Manager is entitled to include additional cleaning costs if the property is returned in an unusually dirty state. Please report any damage to the property to the manager so that it can be fixed for the next occupants.